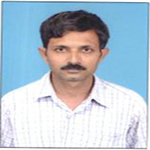 A higher education is not merely to get a good job. In this learning seat in coal belt and industrial area, our mission is to provide quality education and our vision is committed to concept that society will benefit to the extent that each individual is able to contribute if given the opportunity to develop personal skill and knowledge. So Education fulfill it's role only when it attains a certain level of higher standard.
Situated in the industrial area, the college proud of its beautiful sprawling and ecofriendly campus which houses administrative department,the beautiful library,well equiped laboratories,the expanding hostel building for female students,the play ground,the student canteen etc. within the last 28 years of its existence the college has registered its growth both qualitatively and quantitatively, In every sphere of Endeavour the students of Kulti College have excelled.
Last but not least the Principal welcomes the idea of creating such a dynamic website and wishes to thanks the developers for their generous efforts. Our website is thoroughly a student centric and touch with e-mode learning. I do hope, this site will bring all of you close to every new development happening out there on your subject and will provide you ample scope to off-campus study in all respects.
DR. SUPRIYO CHAKRABORTY
Designation : PRINCIPAL
Qualification : Ph.D, M.COM